Details

Robin Park Arena & Sports Centre is a Brand New Computer Fair, taking over from our Mill at the Pier (Wigan Pier) fair. Robin Park will be EVERY Wednesday night so there's no excuse to miss it (NB over the summer month June/July/August this is reduced to every fortnight - check show diary for more info )!



We have initially booked the Sports Centre part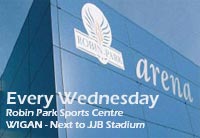 of the complex, but have the option of moving to the even larger Arena side, giving us a chance to expand and improve even more.

The Robin Park Arena will host our new computer fair will offer fantastic prices on all computer related goods. From New PC's, TFT's, printers, peripherals, all types of memory (computer/camera/phone), cpu's and motherboards, to ink, cdr and dvd-r/dvd+r's, cables and networking items (routers/wireless), plus used computers/peripherals, mobile phone accessories and home entertainment equipment (dvd's etc), we've got it all.